ISPSO Northeast America Regional Meeting 2023
Exploring the Future of Work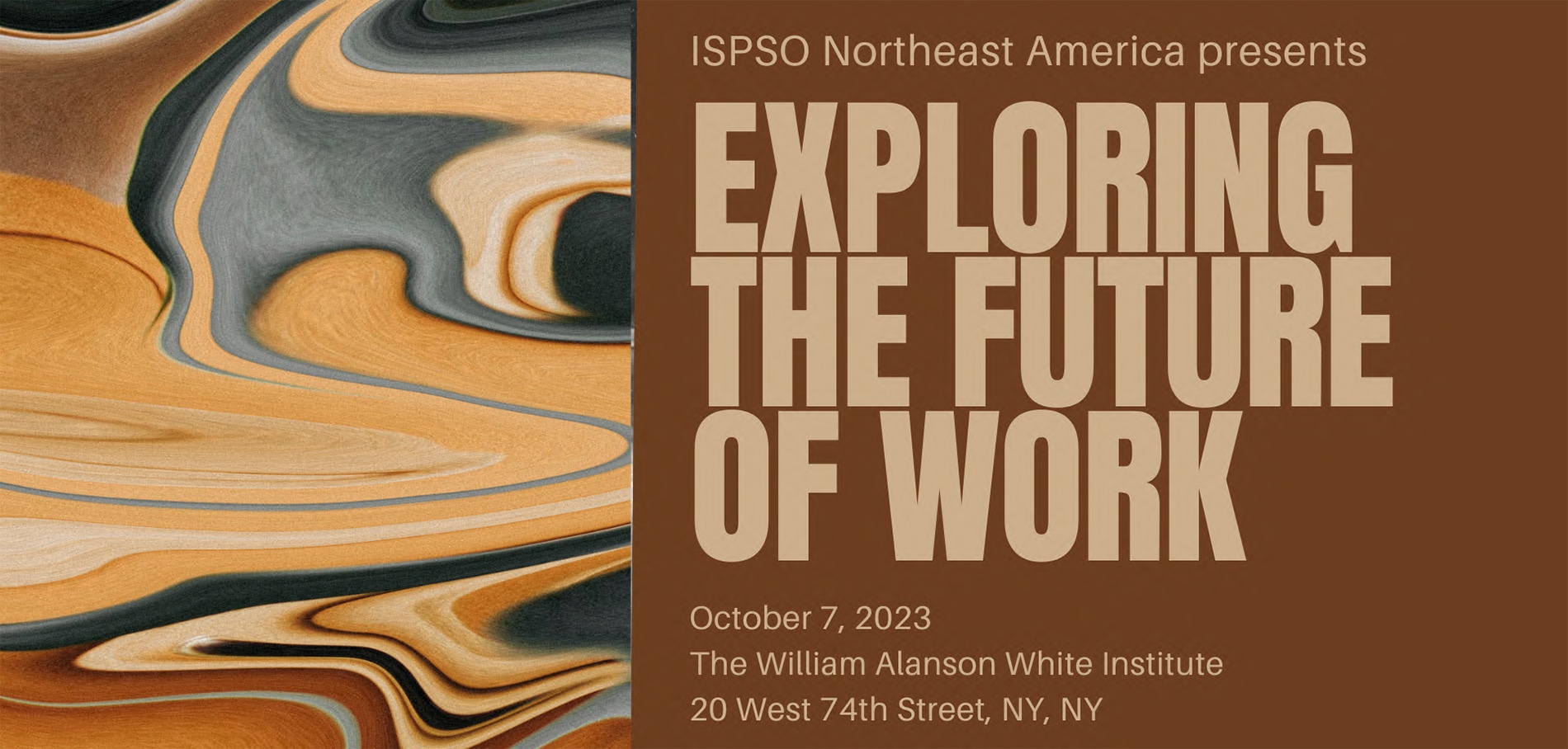 The International Society for the Psychoanalytic Study of Organizations' (ISPSO) Northeast America Region invites you to join in a conversation about the changing organizational landscape.
We are pleased to announce the four distinguished panelists who will contribute to the conversation:
Dr. Leslie Brissett, Group Relations Programme Director, Company Secretary & Principal Consultant at Tavistock Institute of Human Relations, UK
Cathy Hawley, Co-founder of Bolster, Co-founder of Path Forward, an experienced Chief People Officer and an Executive Consultant, USA
Dr. Juliette Nelson, Certified Diversity Executive, Personnel Research Psychologist for the federal government, and an entrepreneur, USA
Dr. Simon Western, Founder of the Eco-Leadership Institute, and the Founder and CEO of Analytic-Network Coaching Ltd, Ireland
The panel discussion will be moderated by Kara Hayward, a Principal at Incandescent
We invite you to:
Engage with experts and practitioners making sense of the shifts we face at work
Explore implications for your work with others passionate about work and organizations
Network with others with an interest in psychodynamic perspectives on work and organizations
When and Where
Saturday October 7, 2023 at 9:00AM to 5:00PM
The William Alanson White Institute of Psychiatry, Psychoanalysis & Psychology
20 West 74th Street, New York 10023
An in-person event
About the Event
We invite you to join us in a conversation on how changes in power, responsibility and relatedness are radically reshaping the workplace of today. The definitions and expectations of work and task are being impacted by DEI and social justice, polarization, remote work / return to work, unionization, and the advancement of Artificial Intelligence capabilities. Together we will explore the future of work from multiple lenses and experiences. We invite you to join the conversation and share experiences, thoughts, and ideas as we offer a space for inspiration and for new insights to emerge.
We welcome all who are interested in the future of work.
REGISTRATION NOW CLOSED


CE Credits Information
ISPSO is partnering with the William Alanson White Institute of Psychiatry, Psychoanalysis and Psychology for Continuing Education credits. This event earns six (6) CE credits, only for those who attend the entire day's program. See here for complete information and instructions.

Program
All times EDT (Eastern Daylight Time)
8:30- 9:00
Arrival
Check in and enjoy a light breakfast.
9:00-10:00
Welcome
Hear welcoming and framing remarks before entering into the space and establishing connections with one another.
10:00-12:00
Panel Discussion
Explore perspectives on the future of work with our panel of experts and practitioners (panelist and moderator bios).

12:00-1:00
Lunch
1:00-2:30
Breakout Discussions
Make individual and collective meaning of the panel discussion and its implications in small group breakout sessions.
2:30-3:00
Tea/Coffee Break and Networking
3:00-4:00
Plenary
Discover new insights by debriefing and reflecting on the day as a whole group.
4:00-5:00
Reception
Hear closing and thank you remarks, network and continue the conversation.

On Friday October 6th we invite participants and panelists to gather for dinner at one's own expense at a restaurant. Time and place will be announced shortly.

Registration & Pricing
ISPSO Members: 110.00 USD (students: 90.00 USD)
Non-members: 140.00 USD (students: 110.00 USD)
Prices include a light breakfast, lunch, tea/coffee break and a refreshment at the closing reception.
Refund Policy: A full refund is available up until 1 October (end-of-day Sunday, EDT). No refunds are available after this time.
We look forward to welcoming you!
ISPSO members and event organizers,
Aaron Nurick
David Rothauser
Kara Hayward
Marc Maltz
Martin Walker
Mette Charis Buchman
Peter Szabo

If you have any questions, please contact Mette Charis Buchman at mettecharisbuchman@gmail.com